I received this via email & think everybody needs to sign it. It's now not only mares pregnant urine they use for Hormonal products! They know want pregnant mares blood to be used by industrial farmers, to get pigs and other animals in "heat" on demand in the factory farming industry. This is an horrendous life for any animal but pregnant horses??? ITS WRONG & NEEDS STOPPING….PLEASE SIGN!!!
 P.S This is a legitimate petition as
o
pposed
to many fake ones; see a previous post about fraudulent petitions!
By; Oliver MacColl – Avaaz <avaaz@avaaz.org>
This is on fire — in days over a million have joined! But we need everyone to make this even bigger before it's delivered to ministers. Forward the email below: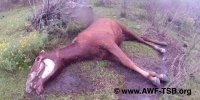 It's a horror movie – hundreds of pregnant horses are hooked up to machines that drain their blood, even until death! All so big drug companies can sell their hormones to industrial pig farmers!! EU ministers meet in days and could ban this disgusting trade. Let's jolt them into action with a massive call – sign the petition, and tell everyone!
Dear friends,
It's straight out of a horror movie: hundreds of pregnant horses hooked up to blood-draining machines, some so weak they collapse and die. But we can stop this right now.
The industrial horse torture is driven by European pharmaceutical companies who use the blood to speed up factory farming! The EU has said it's considering action, but so far nothing has happened.
No more horses need to die! Ministers are meeting next week — let's light a fire under the EU with a massive petition demanding they ban the abusive pregnant horse blood trade. Add your name to the petition below and tell everyone: 
To the EU Parliament, Commission, and Council:
We call on you to ban the import to Europe of any goods produced using techniques which are cruel and cause suffering to animals. As a world leader in animal welfare, Europe should apply its own standards to products it imports.
Death is far from the only horror: so much blood is taken that it can lead to shock and anaemia. And because only the blood of pregnant horses is valuable, they're often forced into repeat pregnancies and abortions. 

Demand is driven by pharmaceutical companies who sell the hormone found in pregnant horse blood to factory farmers to get pigs and other animals in "heat" on demand — another layer of abuse in this sorry story. 

If we shine a light on this horror by raising a massive global outcry now, we can help get a ban of all products made from the suffering of animals — making it difficult for companies all over the world to make big profits from this disturbing industry. Add your name to the petition above then forward this to friends and family — let's build pressure on the EU to act!